Welcome to the home page of The Maia Press, a small independent publishing house. Over the past six years we have developed a reputation for producing high-quality fiction. Four of our novels published so far have been longlisted, shortlisted, or been the winner of major literary prizes, and most of our thirty titles have received favourable reviews in the broadsheet newspapers and literary magazines.
Maia authors have taken part in many literary festivals across the country, including the
Edinburgh Festival
,
Ways With Words
at Keswick and Dartington, the
Spitalfields Literary Festival
, the
Wigtown Book Festival
, the
Ilkley Festival
and the
Hackney Word Festival
.
***NEWS FLASH***

The Maia Press has been acquired by Arcadia Books, and will remain a separate imprint within that company. Maggie Hamand and Jane Havell will remain involved in an editorial and design capacity. Watch this site for more details.


Latest news can be found at the
News
page. Details of forthcoming events can be found in the
Events
page. Details of all our available books and upcoming titles can be found in our
Books
section.
"A new publishing house that aims to give a home to excellent books that larger rivals might ignore"
- The Guardian
"Back-to-basics fiction publishing, a cool breeze blowing through an industry hot-house"
- The Independent
"Some of the best fiction being published today is coming from places such as Maia"
- The Times
"A new independent literary publisher is picking up on the writing ignored by a formulaic mainstream"
- The Bookseller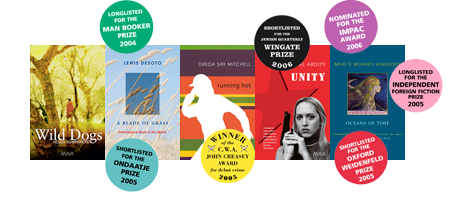 The Maia Press acknowledges the support of Arts Council England