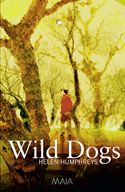 Wild Dogs
- Helen Humphreys
**Joint winner of the 2006 Lambda Literary Award for best lesbian novel, USA**

Out beyond the edge of town, in the woods behind Cooper's farm, a pack of lost dogs run wild. At dusk every evening six people gather to call their former companions home. Their patient waiting becomes a ritual, a memorial and then a healing, as they share their common losses and individual stories.

Helen Humphreys weaves an enchanting tapestry of characters, layering lyrical narrative and rich imagery into a work of deep resonance and delicate hope. Beginning with the simple and evocative image of dogs that have chosen the wild, each scene draws the reader further towards a compelling reminder of our instinctive need to connect and be a part of a larger whole. Wild Dogs is a remarkable work about the power of human strength, trust and love.


'A compelling story of loss and of truth, simply and beautifully rendered: Wild Dogs is a gem.' - Gillian Slovo

'The spare simplicity of Humphreys' tale is laced with beautiful imagery' - The Guardian

'More than a touch of early Atwood to this lyrical collage… eerie word music' - The Independent

'A first-rate talent… Humphreys' spare writing is so clear and so insightful.' - The Canada Post, UK

'Gentle one moment before callously ripping your heart out the next' - Montreal Gazette



About the Author

HELEN HUMPHREYS lives in Kingston, Ontario. Her previous novels,
Leaving Earth
,
Afterimage
and
The Lost Garden
, were published in the UK to critical acclaim.
Leaving Earth
won the City of Toronto Book Award in 1998, and
Afterimage
won the Rogers/Writers' Trust Award for Best Novel of the Year in 2000.
Publication date for
Wild Dogs
: 12th October 2005
Return to
books