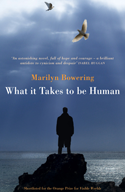 What it Takes to be Human
- Marilyn Bowering
The day after World War II is declared in Canada, Sandy Grey's father, a fundamentalist preacher, won't give him permission to fight. When Sandy's attempt to oppose his father and his upbringing turns violent, he is incarcerated in an asylum for the criminally insane. There he meets Karl, a German; Winchell, a veteran of the Spanish Civil War; Bob, a homosexual who is singled out by a brutal asylum attendant; along with Russians, Chinese and a few hated Japanese.

Unsure how to convince his doctor that he is sane, or of how he fits into the world within a world that is the asylum, Sandy is determined to uncover an historical miscarriage of justice in the hope that it will, by analogy, prove his innocence. What it Takes to be Human exposes the acute parallels between those who are incarcerated and those whose lives are being torn apart by distant conflict.


'A great novel, as worthy as Lord of the Flies, Heart of Darkness, One Flew over the Cuckoo's Nest and Papillon. There were times when I had to put it down – to stand at a distance from the story of Alan Maccauley and Sandy Grey and grasp the gravity of their plight, the sheer insanity of war and the injustices perpetrated on those who lack ability to prove their innocence. Bowering does not seek moments to be brilliant: those moments just arrive' - Toronto Globe & Mail

'The material is dramatic and at times lyrical, the story rich and strange. Sandy is a kind of Everyman, his fine intelligence beaten down in the name of Christian obedience. The irony of his incarceration at a time of global bloodshed is abundantly clear . . . This is no ordinary thriller, and the euphoria and optimism of the ending feel like a dream' - Quill & Quire



About the Author

MARILYN BOWERING is an award-winning Canadian novelist, poet and playwright. Her second novel,
Visible Worlds
(1997), was shortlisted for the Orange Prize and nominated for the Dublin IMPAC Prize. It was praised by the
Independent
as 'a tour de force . . . a wonderful piece of storytelling' and by the
New York Times Book Review
as 'a vast, sprawling feast of a book'. Marilyn Bowering lives in British Columbia.
Publication date for
What it Takes to be Human
: 26th July 2007
Return to
books