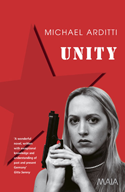 Unity
- Michael Arditti
**Shortlisted for the 2006 Jewish Quarterly-Wingate Literary Prize**

Michael Arditti's first novel since the award-winning Easter examines the personalities and politics involved in the making of a film about the relationship between Unity Mitford and Hitler, set against the background of the Red Army Faction terror campaign in 1970s Germany.

Almost thirty years after the film had to be abandoned following its leading actress's participation in a terrorist attack, the narrator sets out to uncover her true motives by exploring her relationships with her aristocratic English family, the German wunderkind film director, a charismatic Palestinian activist, her university boyfriend, a former Hollywood child star and an Auschwitz survivor turned high-powered pornographer.

Unity paints a deeply disturbing picture of corruption and fanaticism in both Britain and Germany from the 1930s to the present day. Startlingly original in concept and treatment, this remarkable novel is a profound and provocative exploration of the nature of evil.


'A wonderful novel, written with exceptional knowledge and understanding of past and present Germany' - Gitta Sereny

'Farce and intensity blend in a deftly layered version of Hitler's legacy... Michael Arditti ambitiously tackles the theme of human evil in the history of Europe over the past seventy years. He does so with a touch both curiously light and unambiguously earnest' - Melissa Benn, The Guardian

'Strikingly original in form... a remarkable, unsettling book... a compelling fiction' - Jane Shilling, The Times

'What is astonishing in Unity is the grim wit and ironic humour which pervades this serious page-turner... the reader staggers away from this uncompromising drama of ideas shaken and stirred' - Patricia Duncker, Independent

'Highly intelligent... well worth reading' - Adam Lively, Sunday Times



About the Author

Michael Arditti was born in Cheshire and lives in London. He is the author of three highly acclaimed novels, The Celibate, Pagan and her Parents, and Easter, and a collection of short stories, Good Clean Fun (Maia, 2004).
Publication date for
Unity
: 9th June 2005
Return to
books