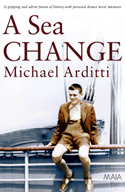 A Sea Change
- Michael Arditti
'This is the story of how I became a man . . .'

In May 1939, the SS St Louis left Hamburg for Havana carrying almost a thousand refugees from Hitler's Germany. On arrival in Cuba, they were forbidden entry and the Captain was forced to turn back. Over the following weeks, the ship criss-crossed the ocean, buffeted alternately by hope and disappointment, as it vainly sought asylum in a friendly port and war drew inexorably closer.

Based on actual events, Michael Arditti's enthralling new novel is the memoir of one of the passengers, fifteenyear- old Karl, heir to a department store fortune. He recounts both the horror and excitement of the trip, along with his personal voyage of discovery, as he learns the truth about his family, battles Nazi crew members and plans mutiny. Most momentously, he describes his first, passionate love affair with the beautiful Johanna.

A Sea Change is a mesmerising journey through history. A tale of dreams and betrayal, of courage and resilience, of romance and reconciliation, it unforgettably evokes an extraordinary summer in which a boy crosses the threshold from youth to maturity.



'A moving and heartening story in which spirit triumphs over political barbarity' - Edna O'Brien

'Brilliant use of a momentous journey to tell the story of a Jewish boy's rite of passage into adulthood. A gripping and adroit fusion of history with personal drama' - Rose Tremain

'A famous story, retold by Arditti with warmth, vividness and gentle wisdom' - The Times

'Superbly realised ... sheer intellectual authority and breadth of sympathy' - The Independent on Sunday

'This moving rites-of-passage tale is as readable as it is profound' - Daily Express



About the Author

MICHAEL ARDITTI was born in Cheshire and lives in London. He is the author of four highly acclaimed novels, The Celibate, Pagan and her Parents, Easter and Unity, and a collection of short stories, Good Clean Fun.
Publication date for
A Sea Change
: 28th September 2006
Return to
books