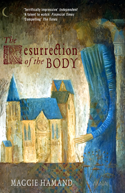 The Resurrection of the Body
- Maggie Hamand
While conducting the Good Friday service, vicar Richard Page is horrified when a man staggers in, bleeding from wounds inflicted during a vicious knife attack. There is no identification on him; he later dies, and no one comes forward to claim the body. Even more bizarrely, his corpse disappears from the morgue, leaving the police baffled and suspicious. The vicar is drawn into a bruising quest to uncover this man's identity and explain the unexplainable. His obsession will bring him into conflict with the police, his superiors, his congregation and even his wife. The Resurrection of the Body is a thoughtprovoking work which explores love, religion and madness within an eerie and unsettling mystery.


'An assured tone and decidedly bold denouement – a talent to watch' - Financial Times

'A compelling, impressive tale' - The Times 'Ingenious and provocative exploration of faith, fact and fantasy. Put it in your suitcase' - Hampstead and Highgate Express



About the Author
MAGGIE HAMAND is a journalist, non-fiction author and novelist. She is the author of two novels and her short stories have been shortlisted for major prizes and published in newspapers and magazines. She teaches creative writing at The Groucho Club and at Morley College. In 2000–01 she was Writer in Residence at Holloway Prison, London, and in 2004–07 a Royal Literary Fund Fellow at London University of the Arts.
Publication date for
The Resurrection of the Body
: 20th March 2008
Return to
books