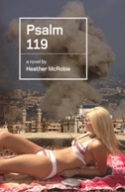 Psalm 119
- Heather McRobie
WINNER of the
2007 Hélène du Coudray Undergraduate Novel Prize
!
'To stand with your peace-flag in front of an army tank and be surprised when you get shot at: this is all the joy of youth. To ask to be fired upon and then have all your friends be outraged for you: this is love.'
In the first years of this century, three young people – Anne-Marie, David and Mohammed – try to find their place in a changed world of identity politics, religion, conflict and betrayal. Set against the background first of student life and then Palestine, Israel and the Balkans, this beautifully written, original and powerful debut novel draws on the poetry of the Song of Songs and the Persian poet Rumi, and asks searching questions about the nature of betrayal, loyalty and identity, both in our personal lives and in today's troubled world.

'An inborn literary skill, a deftness of language, a roving and enquiring mind – and funny with it. If she keeps it up she'll take her place among the best in the land.' - Fay Weldon

'I began Psalm 119 late one night, and my first realisation was that I was no longer tired; my second was that I would not be going to bed until the novel was good and ready to let me go.' - Tobias Hill


About the Author

HEATHER McROBIE, a graduate of the University of Oxford, is currently studying for an MA in Arabic at the University of McGill in Canada.
Psalm 119
is her first novel.
Publication date for
Psalm 119
: 24th July 2008
Return to
books