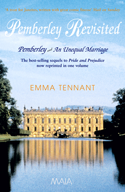 Pemberley Revisited
- Emma Tennant
'It is a truth universally acknowledged, that a married man in possession of a good fortune must be in want of a son and heir'. Elizabeth wins Darcy, and Jane wins Bingham - but do they 'live happily ever after'? Emma Tennant's bestselling sequels to Pride and Prejudice ingeniously pick up several threads from Jane Austen's timeless novel, in a lighthearted and affectionate look at the possible subsequent lives of all the main characters.

Pemberley tells of Elizabeth's failure to produce a child; while An Unequal Marriage continues the story of the Bennets and their wider circle into the next generation. Sparkling, stylish and ironic, with imaginative insights into the emotions and mores of eighteenth-century English high society, these are elegant and diverting social comedies by a master of the genre.
'An omnibus volume of Tennant's two delicious sequels to Jane Austen's Pride and Prejudice, republished to coincide with the release of the new film starring Keira Knightly and Matthew Macfadyen.' - Sue Baker, 'Recommended October Titles' in Publishing News

'Emma Tennant's narrative is made compelling by her utter mastery of Austen's style.' - The New York Times Books Review



About the Author

EMMA TENNANT became a full-time novelist with the apocalyptic
The Time of the Crack
(1973), later reprinted as
The Crack
. More than twenty books were to follow, including thrillers, comic fantasies, books for children and a series of unconventional and revisionary 'sequels' to classic texts, such as
Tess
(1993);
Pemberley and An Unequal Marriage
(1993-4), and
Emma in Love
(1996).
Tennant was the founding editor of the innovative periodical
Bananas
(1975); she has worked as general editor of
In Verse
(1982) and as general editor of the Viking series
Lives of Modern Women
(1985). She was awarded an Honorary D.Litt. from the University of Aberdeen in 1996 and currently lives in London.
Publication date for
Pemberley Revisited
: 16th September 2005
Return to
books