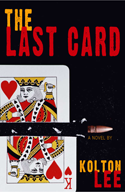 The Last Card
- Kolton Lee
The room was now heavy with smoke. It hung in the air, glowing red from the light in the window, white from the light above the table, blue from the glow of the silent television. The thickness of the air seemed to muffle sound as the players concentrated on their game. Movement in the room, be it the collecting of money, the passing of cards, the scratch of a forehead, was made efficiently, economically. The only gamblers now in the room were those around the central table. As H looked around at what looked like his co-conspirators, he was acutely aware of something: these people weren't here to play; they were here to work. For the patrons
of Blackie's shebeen, gambling was a way of life.

H is a boxer past his prime. Haunted by the memory of the fight that should have made him great, he is chasing his dream through the seedier side of the London boxing circuit, losing fights against his untalented opponents, his wife and, ultimately, himself. When a gunfight at an illegal gambling shebeen drags him down into a multicultural underworld of violence and extortion, H finds himself in debt to the sinister sociopath, White Alan.

Only now does he realise that once and for all he must face his demons and enter the ring one final time. Set on the meaner streets of London that no tourist is ever likely to see, this striking noir thriller from a great new talent is authentic, fast-moving and entertaining.


About the Author

KOLTON LEE is an award-winning British writer/director. He has written for popular programmes on the BBC, including Eastenders, and has directed a number of short films. He recently completed his first independent feature film Cherps.
Publication date for
The Last Card
: 2nd August 2007
Return to
books