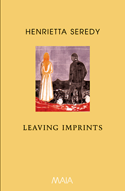 Leaving Imprints
- Henrietta Seredy
'At night when I can't sleep I imagine myself on the island.'

But Jessica is alont in a flat by a park. As the story moves between present and past, gradually Jessica reveals the truth behind the compelling relationship that has dominated her life. The strands of this startlingly original novel are woven so skilfully that the reader is kept guessing to the very last line.
'It is compelling in its description of a fiercely tight relationship between an inseparable brother and sister. Leaving Imprints is full of powerful events and emotions, with images from past and present carefully interwoven.' - Philippa Logan, Oxford Times

'With restrained lyricism, Leaving Imprints explores a destructive, passionate relationship between two damaged people. Its quiet intensity does indeed leave imprints. I shall not forget this novel' - Sue Gee

'Beautifully written . . . an unusual and memorable novel' - Charles Palliser, author of The Quincunx

'An electrically written tale of hurt and damage... there is hunger for life that rips through it that is truly energising and shocking' - Sheila Mulhern, Mslexia



About the Author

Henrietta Seredy, as Henrietta Soames, is the founder of Written Words which runs workshops and provides advice for writers. She previously taught on The Complete Creative Writing Course at the Groucho Club, and ran a novel-writing course at Morley College. As Henrietta Soames, she is the author of two novels, At the Hall and A Play of Light (both Headline Review). Her stories have been broadcast on BBC Radio 4 as well as published in the London Magazine, Stand, and anthologies by Heinemann and Constable.
Henrietta Seredy was born in London of Hungarian and Czechoslovakian parents, and used to support her writing with cleaning jobs. She now lives in London.
Leaving Imprints was published on 19th June 2003