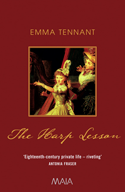 The Harp Lesson
- Emma Tennant
Set in the years around the French Revolution, Emma Tennant's atmospheric and poignant new novel, The Harp Lesson, explores the life of Pamela Sims, a woman who would become known in history as 'La Belle Pamela'.

At a young age Pamela is taken from her humble home in England to the French court, where she is brought up in a life of luxury as the illegitimate daughter of the beautiful Madame de Genlis. Told through the eyes of Pamela and her daughter, this novel vividly retells how her past shaped their extraordinary lives, capturing the atmosphere of 18th century France and the complexity of a world where your origins create your identity.

'La Belle Pamela' was a forbear of Emma Tennant's and the mystery that surrounded her true parentage still haunts her descendants, who are today considering various possibilities for solving the riddle.


'Eighteenth century private life through the eyes of a mysterious beauty ... riveting and very readable.' - Antonia Fraser

'The romance of Pamela's story is irresistable' - Lesley McDowell



About the Author

EMMA TENNANT became a full-time novelist with the apocalyptic
The Time of the Crack
(1973), later reprinted as
The Crack
. More than twenty books were to follow, including thrillers, comic fantasies, books for children and a series of unconventional and revisionary 'sequels' to classic texts, such as
Tess
(1993);
Pemberley and An Unequal Marriage
(1993-4), and
Emma in Love
(1996).
Tennant was the founding editor of the innovative periodical
Bananas
(1975); she has worked as general editor of
In Verse
(1982) and as general editor of the Viking series
Lives of Modern Women
(1985). She was awarded an Honorary D.Litt. from the University of Aberdeen in 1996 and currently lives in London.
Publication date for
The Harp Lesson
: 5th October 2005
Return to
books