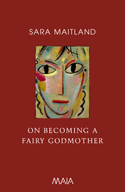 On Becoming a Fairy Godmother
- Sara Maitland
A long-awaited new collection by a master of the short story. These fifteen new 'fairy stories' breathe new life into old legends and bring the magic of myth back into modern women's lives. What became of Helen of Troy, of Guinevere and Maid Marion? And what happens to today's mature woman when her children have fled the nest?

These stories, 'an enthralling blend of erudition and flamboyance', as the Sunday Times described an earlier collection, include an encounter with a mermaid, an erotic adventure with a mysterious stranger, the story of a woman who learns to fly, and another who transforms herself into a real fairy godmother.
'Funny, surreal tales... magic and mystery' - The Guardian

'These tales insistently fill the vision'' - Times Literary Supplement

'These stories sparkle with inventiveness and fun... she is a mistress of the unexpected' - Mslexia

'Lovely, funny, original stories, beautifully written... taking a swipe at history and its related mythology from unconventional points of view' - Historical Novels Review 'Stay curious. Read Maitland. Take off' - The Spectator



About the Author

Sara Maitland is an acclaimed novelist and writer of short stories. In 1978 her first novel, Daughter of Jerusalem, won the Somerset Maugham Award. Her short stories are broadcast regularly on Radio 4 and she reviews and writes articles widely
She also runs the creative writing programme for the Open College of the Arts and teaches on the Distance Learning MA in Creative Writing for Lancaster University. Sara Maitland grew up in Galloway, lived for many years in the East End of London, and since 2000 has been living alone on a moor in Co. Durham, where she is working on a book about Silence.
On Becoming A Fairy Godmother was released on the 19th of June 2003