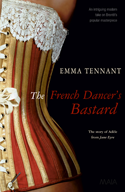 The French Dancer's Bastard
- Emma Tennant
'What do you mean, Jane? I told you I would send Adèle to school; and what do I want with a child for a companion, and not my own child, – a French dancer's bastard?'
(from Jane Eyre by Charlotte Brontë)

Adèle Varens is only eight when she comes to Thornfield Hall to live with the forbidding Mr Rochester, who may or may not be her father. She longs to return to the glitter of Paris and to the mother who has been lost to her. Her loneliness would be complete were it not for the young governess who arrives to care for her, although Adèle at first regards her with suspicion and dislike.

But there is another shadow hanging over their lives: the dark secret locked away in a high garret. Adèle's curiosity will imperil them all, shatter their happiness and finally send her fleeing, frightened and alone, back to Paris.


'A delight to read... the novel is fresh and engaging and provides an enjoyable twist on a classic tale' - The Big Issue

'Evocative prose... Charlotte Bronte would have been proud' - Times Literary Supplement

'A poetic voice that understand the value of the symbolic... a real treat' - Scotland on Sunday



About the Author

EMMA TENNANT is the author of more than twenty books including memoirs, novels, comic fantasies and revisionary versions of classic texts. She is a Fellow of the Royal Society of Literature and lives in London.
Publication date for
The French Dancer's Bastard
: 5th October 2006
Return to
books