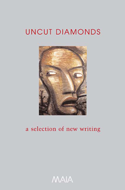 Uncut Diamonds
- a selection of new writing. Edited by Maggie Hamand
These vibrant, original stories showcase the huge diversity of new writing talent in contemporary London. They include an incident in a women's prison; a spiritual experience in a motorway service station; the thoughts of an immigrant cleaning houses; a memory of growing up in sixties Britain, and a lyrical West Indian love story.

Unusual and sometimes challenging, this collection gives voice to writers whose experiences are critical to an understanding of contemporary life in the UK, yet which often remain hidden from view.
'Stunning, full of wonderful characters... buy it and read it for yourself. You'll be able to say you knew the authors before they were famous' - Fiona Hook, The Big Issue
About the Authors

The authors come from a wide diversity of backgrounds, drawing on the ethnic and cultural diversity of people who live in the capital today.
The focus of the collection is to give voice to writers of talent, whatever their background. They include Nathalie Abi-Ezzi, Pam Ahluwalia, Michael Chilokoa, Steve Cook, Belgin Durmush, Alix Edwards, Nick Edwards, Douglas Gordon, Donna Gray, Fatima Kassam, Denese Keane, Aydin Mehmet Ali, Dreda Say Mitchell, Stef Pixner, Katharina Rist, Anita Tadayon, Monica Taylor, Pamela Vincent and Joy Wilkinson. Many of them will be available for publicity.
This collection of writing was part funded by
London Arts
, now renamed
Arts Council England
Uncut Diamonds was released on 2nd October 2003