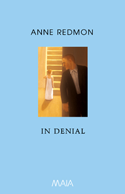 In Denial
- Anne Redmon
In Denial is set in the Victorian prison HMP Grisholme in Peckham Rye. A serial offender, Gerry Hythe, is gloating over the death of his one-time prison visitor Harriet Washington. He thinks he is in prison once again because of her.

Anne Redmon weaves evidence from the past and present of Gerry's life into a chilling mystery. A novel of great intelligence and subtlety, In Denial explores themes which are usually written about in black and white, but here are dealt with in all their true complexity.
'Intelligent writing worthy of a large audience' - The Times

'Redmon's lustrous novel... a discomforting yet compelling work. Graceful and gratifyingly rigorous.' - Sheila Mulhern, Mslexia


About the Author
Anne Redmon is the author of six novels, including
Emily Stone, Music and Silence, Second Sight
and
A Byzantine Trilogy
.
Emily Stone
won the Yorkshire Post Best First Work award in 1974 and her other novels secured excellent reviews in the broadsheet newspapers. Her writing has received critical praise:
'Anne Redmon writes beautifully, with dry humour, sustained intelligence and a sharp eye'
- Janice Elliott, Sunday Telegraph
'An intense, sensitive and witty novelist'
- Philip Howard, The Times

Anne is currently Writer in Residence at a large prison. She is an elected Fellow of the Royal Society of Literature and lives in London with her husband, The Times theatre critic Benedict Nightingale.
In Denial was released on 19th June 2003