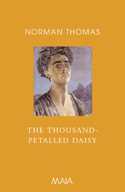 The Thousand-Petalled Daisy
- Norman Thomas
Injured in a riot while travelling in India, seventeen-year-old Michael Flower is given shelter by a doctor in a white house on an island in a river. There, accompanied by his alter ego (his glove-puppet Mickey-Mack), he meets Om Prakash and his family, a tribe of holy monkeys, and Lila, the beautiful daughter of a diplomat. Unknown to him, the house is also the home of a holy woman. When she grants him an audience, Michael unwittingly incurs the jealousy of her devotee, Hari, and violence unfolds. A storm, a death and a funeral, the delights of first love and the beauty of the Indian landscape are woven into a narrative infused with a distinctive, offbeat humour and a delicate but intensely felt spirituality.
'This novel, both rhapsody and lament, is superb.' - The Independent on Sunday

'Do not be fooled by its humour, accessibility and tenderness: this novel is serious and seriously good. It is beautiful, thoughtful and flamboyantly original.' - Sara Maitland
About the Author

Norman Thomas was born in Wales in 1926. His First novel,
Ask at the Unicorn
, was published in 1963 in the UK and the USA to critical acclaim. He now lives in Auroville, south India.
The Thousand-Petalled Daisy was published on 30th October 2003.