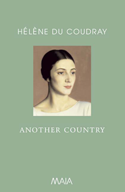 Another Country
- Hélène du Coudray
Ship's officer Charles Wilson arrives in Malta in the early 1920s, leaving his wife and children behind in London. He befriends a Russian émigré family and falls for their governess, the beautiful Maria Ivanovna. The passionate intensity of his feelings propels him into a course of action that promises to end in disaster. First published in 1928, Another Country is beautifully written, its prose is fresh and undated, and its themes of exile, love and betrayal are just as relevant today.
'The descriptions of the refugee Russians agonisingly life-like; their eternal talk, their untidy helplessness, . . . their demands for incessant pity, their conceit, and the streak of poetry that informs the meanest of them, have been admirably caught and observed' - The Times Literary Supplement, reviewing the first edition in 1928.
About the Author

Hélène du Coudray was born Hélène Héroys in Kiev in 1906 and spent her childhood in St Petersburg. During the First World War she was exiled to Finland and Sweden, before coming to England at the age of twelve.
Another Country, written while she was still a student, was awarded the prize in an open competition to find the best novel by an undergraduate at Oxford or Cambridge.
Fluent in several languages, she finally settled in Geneva, where she worked as an interpreter. She was the author of a major biography of Metternich, and published three other novels, including The Witnesses, an epic study of the Russian Revolution.
Another Country was published on 16th October 2003