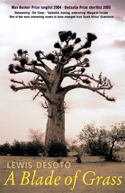 A Blade of Grass
- Lewis DeSoto
**Shortlisted for the 2005 Ondaatje Prize**

**Longlisted for the 2004 Man Booker Prize**

**International Book of the Month in the US December 2003.**

Märit Laurens, a young woman of British descent, recently orphaned and newly wed, comes to live with her husband Ben on their farm, situated in an Edenic setting on the border of South Africa and an unnamed country. But when guerrilla violence and tragedy visit their lives, Märit finds herself in a tug of war between the local Afrikaaner community surrounding the farm and the black workers who live on it. Frightened and confused, she turns to the only person who can offer her friendship – her maid, Tembi.

Märit stubbornly determines to run the farm with Tembi's help, until the encroaching civil war brings out their conflicting loyalties and turns their struggle into a fight for their lives. Written with exquisite lyricism and deep insight, this novel offers a profound perspective on what it means to be black and white in a country where both live and feel entitlement, and moves beyond its own time and place to become a universal story of the price of freedom.


'The rhythms of the prose are so seductive, the feeling for landscape is beautiful... What fiction should be: instructive, moving, enthralling.' — Margaret Forster

'A plangent debut... an extremely persuasive but of storytelling' — Daily Mail

'Outstanding debut novel... a cogent portrayal of race relations during the apartheid era' — The Times

'One of the most interesting novels to have emerged from South Africa recently.... does something few African writers have dared try' — The Economist

'DeSoto writes lyrically about the African countryside, and he delicately reveals the nuances of interracial sexual attraction.' — The New York Times
About the Author

Lewis DeSoto was born in Bloemfontein, South Africa and emigrated with his family to Canada in the 1960s. There he attended the University of British Columbia and graduated with an M.F.A. He has exhibited paintings in public and private galleries across Canada. His writing has been published in numerous literary journals, and he was awarded the
Books in Canada
/Writers Trust Short Prose Award. A past editor of
Literary Review of Canada
, Lewis DeSoto lives with his wife, the Swedish artist Gunilla Josephson, in Toronto and Normandy, France.
A Blade of Grass was published on 9th June 2004.