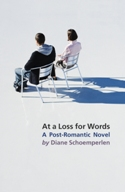 At a Loss for Words
- Diane Schoemperlen
She wasn't looking for love. As a successful writer with an established career, a comfortable home and a supportive group of friends, her life was full. But then, thirty years after he broke her heart the first time, he walked into a book signing and back into her life. Spurred on by the idyll of a first love made good, they reconnect through emails. But, strangely, love has left her with a nasty case of writer's block. At a Loss for Words is another brilliant expression of Diane Schoemperlen's gift for building the minutiae of everyday life into a profound understanding of women, men, love and imagination.



'There are many laughs in At a Loss for Words that have tears underneath. This a book for those who love words, particularly those who have also loved a person in vain.' - Mary Soderstrom, Quill and Quire

'Bittersweet comedy of love and loss.' - Toronto Globe and Mail
About the Author

DIANE SCHOEMPERLEN has published five collections of short stories and two novels, which have won many awards in her native Canada.
Publication date for
At a Loss for Words
: 16th July 2008
Return to
books