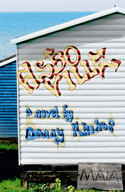 Asboville
- Danny Rhodes
ĎA-S-B-O. You think that makes you special. But it doesnít. It means you were stupid enough to get caught, thatís all. I should have one. I should have the biggest ASBO there is. I want a poster with my face on.í

When sixteen year old JB is served with an ASBO he is sent to live with his uncle in a tiny caravan by the sea. Each and every day he must paint one hut on the beach. Itís a chance for him to turn his life around, a chance to pay something back for all that happened in the city.

As the summer days drag by JBís feelings of frustration and isolation grow. Only his tentative relationship with Sal offers up any chance of rescue. But a storm is coming that threatens to shatter his hopes and destroy the relationship that could redeem him.


'An excellent debut novel. Definitely in my top 10 of the year.' Scott Pack, The Bookseller

'A tender take on modern youth. Rhodes dramatises their sense of exclusion with freshness and insight' - The Guardian

ĎThis finely crafted and often lyrical debut novel offers far more than hoodie-hugging sympathy or sink-estate despair.' - Boyd Tonkin - The Independent


About the Author

DANNY RHODES lives in Canterbury and teaches English in a school by the sea. He has published short stories in the UK and the US. This is his first novel.
Publication date for
Asboville
: 18th October 2006
Return to
books