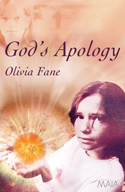 God's Apology
- Olivia Fane
Patrick German has achieved all his life's ambitions: a lovely wife, a baby son and a prestigious job in publishing. So when, one day, he walks out on all he knows and loves, he is as perplexed as anyone. He runs away to become a primary school teacher in north Norfolk, where he is mesmerised by a ten-year-old girl in his class, Joanna, who has an otherworldly authority about her. Patrick comes to realise that the private, angst-ridden confession he set out to write is becoming something far more extraordinary: an eyewitness account of an angelic life on earth.

Olivia Fane writes with the fluid, faultless prose and sharp, questioning intelligence which defined her previous two novels, Landing on Clouds (Winner of a Betty Trask Award) and The Glorious Flight of Perdita Tree (Maia 2005).


'She writes intelligently and unusually.... brilliant' - Fay Weldon

'This extraordinary story is told very readably' - The Tablet

'A very distinctive novel' - Hilary Mantel

About the Author

OLIVIA FANE was born in 1960. She studied Classics at Trinity Hall, Cambridge, and trained as a probation officer in Leicester. She went on to work as a psychiatric social worker with young offenders in Cambridge. She lives with her husband and five sons in West Sussex.
Publication date for
God's Apology
: 22nd June 2006
Return to
books